Who does not like to look presentable and glamorous? We all do, isn't it! In this process fashion and styling is the key. If you have the right knowledge and access, you can rock any outfit in any space. So what exactly is Fashion? To go with the definition, it means prevailing or popular style of clothing. But for us Fashion is something that makes you comfortable and feels good. 
Now generally since ancient times fashion and style was seen to be related more to women. It is not so that men didn't have any fashion per se, but it was just seen as a women's thing. Yet, there were many extraordinary men who put a foot forward to reform Men's fashion. All thanks to them as today since the reformation there have been numerous changes.
The world of fashion keeps changing frequently. Trends come and go quickly. Some stay for a longer period of time, some vanish quickly. Sometimes old trends are introduced with a twist. Coping up in the world of fashion might be an event of stress sometimes. We constantly want our appearance to be a sight of beauty and pleasure and hence we often want to know more and more about new trends and styling tips. 
Long ago, fashion was accessible and affordable only to the privileged few. But with changing times, fashion is easily accessible and even affordable to many.   
This article focuses on Men's fashion. Since the Renaissance era or say reformation, Men's fashion has drastically changed over time.  Today in the 21st century, fashion plays a vital role. 
The year 2020 shook up each and everyone of us. So as well the fashion industry! Designers rolled out new looks and trends, we all were excited to fill our wardrobe with newest clothes and trending stuff, excited to go out wearing those trends and looking fashionably fit; but alas! 2020 made us sit home with nothing but our pajamas on. Hence now we look up to 2021 for giving us good hope, and especially boost our fashion senses.  So here are Top 15 Men's Fashion Trends that will help you rock your 2021 closet plans. 
1.Oversized / Baggy Clothing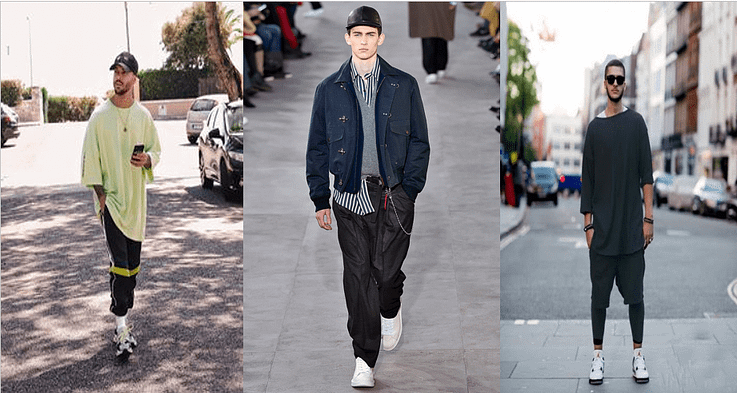 We generally use such clothing to relax and chill at home. But it's about time you start rocking those on the stress too. Custom fits and skin tight clothing have dominated the fashion industry for a long time. But now, oversized or also known as baggy clothing are seizing control. 
This clothing makes perfect fit especially in fall and winter. If you are worried about being too skinny or about being too chubby, these are the right ones for you. They don't  judge you but always accompany you well. Oversized is breaking the fashion rules and is trending at top amongst teenagers and adults as well. 
Fashion brands such as Gucci, Zara, Moschino, Balenciaga, etc. and other designer labels are all seen modelling oversized collections. From large shirts, t-shirts, pants and jackets, you can choose your pick efficiently.  
2.Bomber Jackets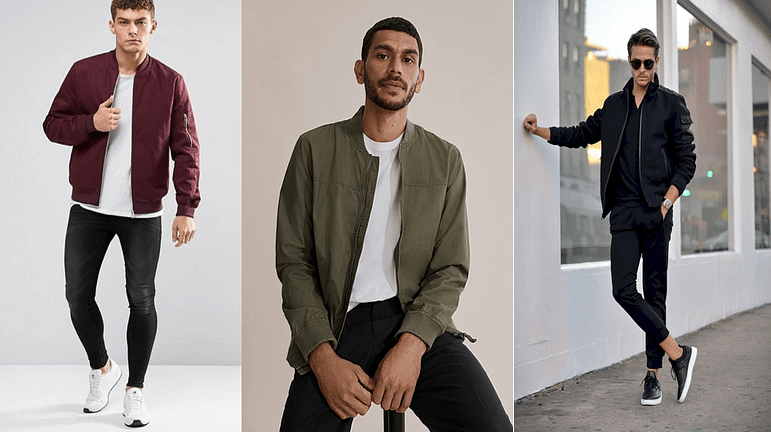 Classic jackets which suit a variety of occasions. Bomber jackets are a must have piece of clothing in a men's wardrobe. It is a timeless piece of outerwear which doesn't go out of trend. It is both fashionable and comfortable and versatile.  Especially good to wear during winter times to look classy as well as to help you with the weather. Now we even have summer bomber jackets with thin material just for a little bit of a fashionista feeling. A statement piece, Bomber jackets are a total must have guys! What a dull fashion life if you don't go out rocking this jacket and looking like a total dude.  
3.Florals Prints
 A trip back to the 1970's, we are loving this trend. Florals are back and yes with more twist and style they will surely rock and make you look cool. This trend is showing no signs of slowing down. While some may argue that it is not too manly, nevertheless we are here to prove them wrong. This trend of floral prints is rocking everywhere. Florals are supposed to be fun, light, attractive and cool. 
Most of the fashion labels are pushing florals to the top. Even style icons and influencers are seen using this trend quite well. Whether on a vacation or a casual hook up, consider florals as your friend. It is mostly associated as a vacation bundle.   
4.Vertical Stripes
Stripes in men's wear are always common. They are always around. Stripes are best because they aren't really trending nor outdated as well. They are just simply there every time. Now there is an observation to stripes that horizontal stripes make men look bulkier and wider! Hence, Vertical stripes are a good option if you are thinking of going for stripe looks. Vertical stripes have the opposite effect. This pattern flatters all body types.
5.Bermuda Shorts
Consider it as a quarantine effect or something! Because we all know how we dressed for online office work. Dashing collar shirts with ties, while wearing shorts below. So this might just be one of the things that popped Bermuda shorts into the fashion game again. 
Being a semi-casual attire, these shorts really can give you comfort while still looking dapper. A super quick fashion tip; Bermuda shorts with a graphic tee tucked in from one side can help you rock a look. Almost every guy knows about Bermuda shorts! So if you don't have one, what are you waiting for? And if you own one, go and rock those shorts this summer and spring. 
6.Pastels 
Gone are the times when pastels were associated with women. Pastels are totally a yeee-yee in men's spring fashion trends. The Arrival of spring means the arrival of colors and for this pastels are a try on. A helpful tip is that if you are not sure about pastels working on you, at first try a neutral pastel shade and then once you are comfortable enough you can climb up on that scale. 
7.Camp Collar Shirts
Camp collar shirts go by many names such as Aloha shirts, Cabana shirts, Cabin shirts, Lounge shirts etc. These are definitely making a new entry in men's spring and summer fashion statements. Usually a pattern of Hawaii type, hence most of them are normally florals. But now designers have created other styles too for camp collars. Untucked with casual jeans, chinos or shorts, will surely leave a style statement.
8.All White
Crisp and Clean as it may look, but it comes with all sorts of risk. Yet this is the most trending and dapper outfit men can rock.  A white polished shirt with a pair of white chinos and sneakers for rock and roll. If that looks too heavy for you, don't be shy to throw on a navy blue or sky blue over wear on it. For more formal events one can go with a full white tuxedo. White is a rich color which won't ever disappoint you. Regardless of the looks and luxury feels, it is a risky color to choose from, hence beware y'all. 
9.Slides
Who ever thought this ancient style could make a comeback! We are surprised but yes, slides are back and rocking even more than ever. Easy to wear, handle and comfy with a style statement, they sure will help you in the summer and spring days. And oh yes, they are easy to slip on. 
10.Espadrilles
Ever heard of them? These are super comfy and easy substitutes for sneakers and slides. Having a clean look of loafers and comfort of slides, espadrilles are the best option for a semi- casual look. Whether on a beach, a grocery run or a meet up with friends, these are the right footwear you should try a leg on. 
11.Bucket Hats
Oh yes, Bucket Hats are still a thing and they are trending even more than before. Bucket hats have been a staple accessory in men's wardrobe for ages. Popular in the 1980's and 1990's these hats actually were introduced in the late 1940's. Also known as Fishing hats, they were originally worn by farmers and fishermen as a protection from rain. Later the material and style evolved and now we get to see super stylish and dope bucket hats. They continue to charm us just as they did back then. A popular street style item, you can rock it at any time of any season. So grab a bucket hat if you don't own any because that's the new cool now!           
12.Cross Bags
            
Gone are the days when we use to carry big backpacks and roam around to look cool. Notice how the bags are getting trendier and smaller as per our needs! The suitcase, the big bag packs and the drawstring bags, for which now the cross bags have taken over. The trending list for bags includes many, but one among them catches our attention quite well. The Cross Bags! Well for a long time men usually used to carry suitcases which were considered "manly". But now things are changing and the stigma of men carrying big bags is going outdated and the new trends says it all.  Another street style item, but when paired correctly can rock your look to the moon! 
13.Drawstring Trousers
 If you don't own a pair of at least one Drawstring Trouser, is your wardrobe even complete! Men's wardrobe goes hand in hand with these trousers. The comfort level these pants give you is next to perfect. If you want to avoid discomfort throughout the day and just want to chill this spring season, these are the right ones for you. The beauty of these trousers is that you can pair it with a normal tee to look casual and you can also pair it with a button down shirt to look classy. It's all on you now! Since they look similar to sweatpants, which obviously aren't  a good idea to wear at work! But you can rely on Drawstring trousers for the comfort of sweats. 
14.Cargo pants
The good old days when Cargo pants were the go-to outfit, Ahhhh! These pants are back in the streamline and in a stylish way. Big and many pockets, with belts defined a cargo look. But now designers have presented varieties in cargo. If you don't want to look heavy on pockets like a sailor, you can choose one with less pockets and slimline legs instead. But if you want to channel your inner Kanye West, go for an oversized cargo with large pockets. Cargo pants are our personal favorite. So go and rock a look with those dashing pants this summer. 
15.Suede Shoes
 A massive hit and popular trend in 2019 and also in 2020, Suede shoes continue to make their way again in 2021. They were considered the most elegant and stylish in 2020, and even now are in demand and trending in men's footwear fashion of 2021. The material of these shoes is fancy and hence requires delicate care. These are the perfect shoes if you are trying to make an impression, because they always look stylish and expensive. So if you are out there shopping for some footwear, do consider taking a look at Suede shoes for your spring wardrobe. 
Conclusion:
In the fashion world, trends are everything. If you want to rock and roll and make your outfit game strong, this article will just help you with everything you need to know about men's fashion in 2021. So go ahead and make your summer and spring 2021 wardrobe look classy, because yeah nobody likes to be called outdated in fashion!